When the demands on delivery speed and quality are high, it is crucial for logistics companies to keep track of all incoming and outgoing shipments. Since manually searching for specific items in transshipment halls is time-consuming and error-prone, seamless shipment tracking plays an increasingly important role in the daily operations of transport companies.
For K. Hansen Transport AS, ensuring high-quality logistics services is also a top priority. That is why the company has opted for the video management solution DIVIS CargoVIS, powered by the Quuppa Intelligent Locating System™, for their shipment tracking.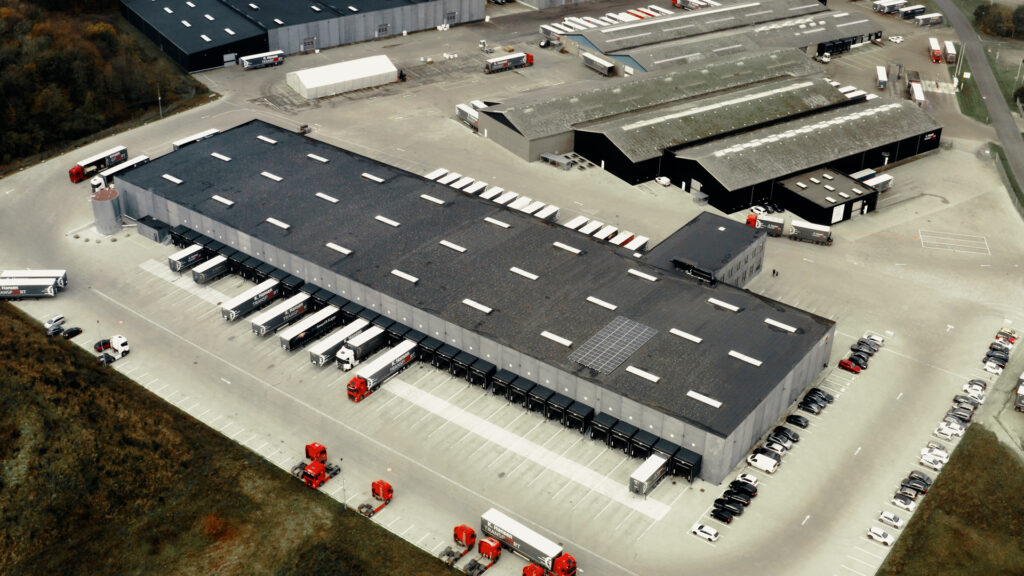 Spoilt for choice: numerous locating methods available
There is an abundance of technologies at our disposal to determine our location. These technologies provide us with the data we need for seamless tracking, but it is important to recognise that not all of them are equally accurate or suitable for indoor applications. While GPS is sufficient for basic outdoor tracking, more accurate alternatives are required for indoor applications.
These alternatives include technologies such as Wi-Fi, ultra-wideband (UWB), RFID and Bluetooth®. For indoor tracking, the Bluetooth®-enabled Quuppa RTLS solution stands out as one of the most reliable systems available today. In logistics, the full potential of this technology comes to the forefront when it is integrated with a software-based video management system (VMS). Thank you for the synergy between camera-based package tracking and precise location data, seamless tracking of assets is achieved within seconds. This integrated approach provides a powerful solution tailored specifically for logistics operations.
The Danish company K. Hansen Transport AS was looking for a combination of technologies that would add significant value to their operations. They needed a versatile video management system with tracking technology that would cover both the indoor and outdoor areas of their premises and fit seamlessly into their daily logistics processes.
Through a recommendation from a satisfied DIVIS customer, K. Hansen Transport discovered DIVIS CargoVIS video management software, which incorporates the Quuppa solution.
Seamless goods tracking indispensable
In extensive warehouse facilities with high shipment throughput, visual package tracking is indispensable to ensure quality control. In 2021, K. Hansen Transport AS implemented DIVIS CargoVIS video management software in six of its logistics warehouses. Another almost 8,000 square metres were equipped with CargoVIS, complemented by tagless Bluetooth® tracking with DIVIS Location+.
A notable advantage of this tracking solution is the elimination of hardware tags. The need for tags or transponders, i.e. small transmitters typically attached to scanners, has been eliminated. This tagging function is now seamlessly handled by an app developed by DIVIS.
When a pallet barcode is scanned using the Quuppa system directly from the barcode scanners (via app), the Transport Management System (TMS) or Warehouse Management System (WMS) records the scan data. Simultaneously, the Locators installed on the hall ceiling receive Bluetooth® signals from the scanners to indicate the exact location at the time of scanning. The app subsequently transmits the scanner's position.
The location data is integrated into the CargoVIS database and correlated with the recorded video footage of the shipment. This results in a comprehensive data trail for each asset, enabling accurate tracking based on consignment or pallet numbers. Another advantage is that the fast search entry via scan points speeds up loading and unloading. With Location+, even the positions of concealed objects can be accurately determined.
The advantages of combining CargoVIS and Quuppa tracking with Location+ at a glance:
Assigning goods location based on visual representation of the scanned goods
Easy orientation within the camera images, facilitated by a clear visualisation of the scanning area
Scanned objects identifiable in the camera images even when occluded
Streamlining daily tasks with the Bluetooth® app
High flexibility and subsequent integrability of scanners
Faster investigation through targeted access via scan times
Efficient data interpretation thanks to the linking of scan, video, and location data
Rapid amortisation of the purchasing costs.
One platform, many possibilities
In addition to the Location+ plus feature, the DIVIS platform offers logistics customers other plus modules that can be combined with the CargoVIS or ParcelVIS video software products used in parcel logistics. K. Hansen Transport AS uses License-Plate+, a database-supported system that enables automatic recognition of vehicle licence plates via video camera and simplifies access and yard management. The stored data can be used for entry and exit control and for controlling vehicle movements in the yard to ensure that only authorised vehicles enter the company premises.
Significant increase in efficiency
Thanks to the DIVIS and Quuppa solution, K. Hansen Transport has been able to significantly increase its operational efficiency. The absence of tags in this environment minimizes the occurrence of locating failures and errors, resulting in substantial savings by eliminating the expense of purchasing, repairing and maintaining small transmitters. These improvements lead to significant gains in efficiency, cost reduction and the streamlining of unnecessary tasks for our staff. The strengths of the solution are also evident in logistical environments where many scanners need to be located accurately. Installing the DIVIS app on new devices effortlessly integrates the scanners into the tracking system. Thanks to these comprehensive process optimizations, the solution quickly pays for itself.
Conclusion: Success all along the line
Location+ with tagless Bluetooth® tracking has improved various aspects of K. Hansen Transport, from loading processes to claims management. In addition, customers now experience a higher quality of service. Director Jakob Wiborg Hansen expresses his satisfaction with the partnership with DIVIS, particularly in the areas of sales and service.
In his own words:
The cooperation with DIVIS has been highly effective, and we are very content with the system."