I visited the logistics center of a major international company that uses Quuppa technology for indoor positioning. Proudly displayed to all visitors was a sign that stated that the facility had gone 562 days without any accidents.
This really brought home a point for me: Even at this highly efficient state-of-the-art warehouse, the number one priority was not performance, but workplace safety. After all, the company could have advertised how they had broken their productivity records at the facility to visitors, but that's not what they chose to highlight.
Safety in the workplace really does come first. As employers and professionals, we need to look out for our colleagues, but the task is much more challenging when we work out of sight of each other.
Alone Together
Lone workers are defined as people who work in a situation where they cannot be seen or heard by others. Job descriptions can vary widely, from office receptionists, cleaning staff and security professionals to construction, mining and maintenance workers.
Working alone is especially demanding if it involves high-risk activities such as working at heights or in confined spaces or operating potentially hazardous products or equipment. Public situations with the potential for violence also pose their own unique problems.
Lone workers can be exposed to many dangers that are not found in the typical office setup. These can range from accidents or sudden illness without the possibility of immediate first aid, to physical assault. Some industries and jurisdictions also have specific legal requirements for lone worker safety that employers need to comply with.
Real-Time Locating Systems: A New Toolbox
Fortunately, there are many tools that we can use to improve the safety of lone workers. These range from well-designed check-in procedures to reliable communications and appropriate protective equipment.
Real-time locating systems (RTLS) fill in the missing piece of the puzzle. Knowing the exact location of lone workers helps ensure their safety and security while giving peace of mind to both the employee and employer.
Bluetooth®-based locating solutions can go where GPS can't, are more cost-effective than UWB (Ultra-Wideband ), and significantly more accurate than WiFi or active RFID (Radio-Frequency Identification). Whether in mines, automated warehouses or chemical industry facilities, RTLS can help keep employees safe while helping employers fulfill their workplace safety responsibilities.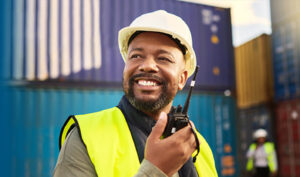 Bluetooth tags can also be configured as IoT gateways that not only transmit data from equipment and systems in the field, but also keep track of workers' vital signs in hazardous environments. In case of danger, control room staff can be alerted automatically, and can send help even if the employee is unable to call for assistance. No current or foreseeable camera solution can do this.
We're All in This Together
Cell phones and cost-effective professional radio networks have gone a long way towards improving the safety of lone workers, but they aren't always available. If you worked alone in a mine corridor several hundred meters underground, in the dark, at temperatures approaching +40°C, what kinds of safety solutions would you want for yourself? I can certainly think of a few.
So the next time we are in a work situation where one of your colleagues is working out of sight and out of earshot – possibly on a job that contains some inherent risk factors of its own – perhaps we should pause and rethink the scenario. Are we really using all the tools that are available to us, or are we stuck in a mindset of times gone by and living with some unnecessary risks because "it's just the way it is in this line of work"?
RTLS offers us a range of new possibilities for improving lone worker safety, and the only thing holding us back from using them is our capacity to imagine how things could be done better. Personally, at least I would like to take advantage of every available measure to keep my staff safe – ultimately protecting both my employees and my business. Wouldn't you?