QT1-1 Tag Product Specification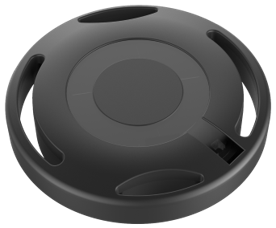 Product Specification
Quuppa QT1-1 (Quuppa Tag) is part of the Quuppa Intelligent Locating System. Other parts of the Quuppa Intelligent Locating System are Quuppa Locators and Quuppa Positioning Engine software. The Quuppa Intelligent Locating System allows you to locate and track any objects equipped with Quuppa Tags in an environment equipped with Quuppa Locators. Quuppa QT1-1 contains the Quuppa QT1 (Quuppa Tag Module).
Brand name:
Quuppa
Product name:
Tag
Model number:
QT1-1
Purpose:
Quuppa QT1-1 contains a Quuppa QT1 RF transceiver using the 2.4 GHz frequencies
Dimensions:
⌀: 39 mm, h: 9 mm
Weight:
10 g
IP Protection Class:
IP 67
Operating temp. range:
0°C…+60°C
Storage temp. range:
–30°C…+70°C
Radio:
nRF52832 Bluetooth SoC by Nordic Semiconductor
Radio transmission:
Bi-directional
Number of channels:

81 channels (1 MHz) but only one at a time

(for Japan 80 channels)

Carrier frequencies:

2401 2402 … 2408 2481 MHz

(for Japan: 2402 … 2408 2481 MHz)

Modulation:
GFSK
Max Output Power:
2.5 mW
Antenna:
Integrated printed IFA antenna with 0dBi gain
Antenna connector:
N/A
Power supply:

CR2032

Due to waterproofing the battery is non-removable and non-rechargeable

Charger / Adapter:
N/A
Certifications:
Japan, FCC, IC and Korea for Quuppa QT1. CE, EAC, India, Saudi Arabia and Brazil for QT1-1.
Functionality:
Button, LED, Accelerometer
Important:
Quuppa devices should only be used in environments that fit the conditions listed in the above table. Exposure to more stress (e.g. operating the device in higher than recommended temperatures) may affect the reliability of the device or even cause permanent damage to the device.
Environmental Tests
The QT1-1 has passed the environmental tests listed in the table below.
Test
Reference

Dry heat, +60 °C / <50 %RH / 8 h, in operational mode

IEC/EN60068-2-2

Cold, operational

IEC/EN60068-2-1

Damp heat operational, +60 °C / 85%, 1 week

IEC/EN60068-2-78

IEC/EN60068-2-78
Change of temperature, +60°C/-20°C 1 h cycle, 24h
Dry heat, storage, 70°C

Cold, storage., - 30°C

UV exposure IEC/EN60068-2-5, procedure C
IEC/EN60068-2-5, procedure C

IK (mechanical impact) test -IK06:

• impact energy : 1 J

• number of impacts: five

Random vibration test