Use the QDP Application
Operation Modes
When opening the Data Player application, you will first select the operation mode:
Play Recorded Data or
Live View
Both modes offer the same basic functionalities.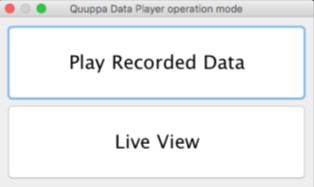 Play Recorded Data
Loading data
Choose the folder where the recorded data is
Choose the files you want to import into Data Player (Data Player log file name shows the date and time when the recording was started: prefix_YYYYMMDD_HHMMSS.quuppadatalog)
Optionally, you can load a different version of the project file. (For example, if you have created new Zones or Log file formats in your project and want to use them with previously recorded data.)
Live View
To enable Live View streaming from your Quuppa system:
In QPE Web Console: set the IP address of the computer that is running the Data Player application and press

Start

Open the Data Player application
Choose

Live View

mode
UDP receiver will detect the stream and load the project file into the Data Player
Click

Start Quuppa Data Player
In Live View mode, new data is loaded into Data Player's memory in real-time. The default maximum time for buffering is 10 minutes. This can be adjusted in Settings/Filtering. When the set limit for buffer length is reached, the application will begin to clear older data from memory.
Note:
The Live View mode does not support saving data. To save data for later use, activate Data Player Recording in QPE Web Console. Recording and Live View can be running simultaneously.
With the Quuppa Push & Log -module enabled, log files in .csv format can be exported even from Live View mode.
Main Window Layout
The main window is divided into three sections:
Tag Table
Map View
Timeline and controls

The section sizes can be freely adjusted. Tag Table and Map view can also be opened into separate windows from the Window menu.